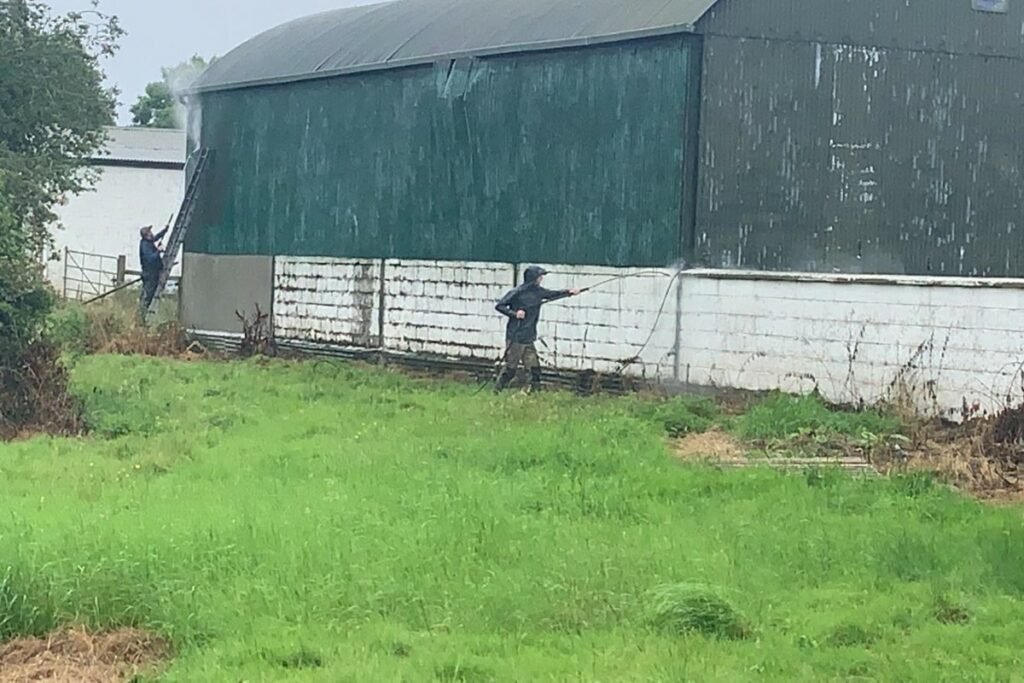 Farm Cleaning Contractors for Kildare
We provide a farm cleaning service in Kildare which includes cleaning farm buildings, industrial sheds and structures.
CLICK TO GET A FREE QUOTE
We Provide Free No Obligation Estimates For Cleaning Shed Farms in Kildare
Every member of Agri Farm Painters is trained to work and always to the highest of standards covered by full public liability. Unbeatable value with a proven reputation for cleaning in Kildare.
Farm Building Cleaning and Industrial Sheds in Kildare
Get a free estimate from Agri Farm Painters for cleaning your farm buildings, hay barns, silos, industrial sheds and more in Kildare.
Our agricultural farm cleaning team comes equipped with a high pressured 5000 PSI system that will remove even the most stubborn of stains from your farmyard.
We are fully insured to work on any type of building including the roof and floors. From metal sheeting to plastic cladding and asbestos.
Farm Cleaning Services For Kildare Includes:

Farm buildings
Industrial sheds
Interior flooring
Cleaning shed gutters
Hay barns Kildare
Shed roofs
Concrete flooring
Tarmac flooring
Weed removal
Moss and algae removal
Farm houses
and more...
When we assess your requirements, we can give you a detailed analysis of how to proceed with your cleaning project, if it requires pre treatment to remove any moss or algae and what type of pressure system would be best suited for the work.
We provide options for high pressured washing systems to remove old paint, grime, algae and dirt build up to using our patented cleaning products and disinfectant for areas where hygiene is of vital importance.
Along with our service for cleaning and renovating farm buildings, we provide other options such as farm painting in Kildare and repairing farm sheds in Kildare.
Experts at Cleaning Farm Sheds, Industrial Buildings, Hay Barns, Grain Barns, Dutch Barns, Milking Parlours, Concrete Flooring, Interior Flooring, Exterior Flooring, Slated Houses, Cattle Pens and Farm Yards.
Call 087 976 5223 to get a free estimate on cleaning your farmyard and farm buildings in Kildare.
Schedule Your Free Kildare Quote Today!
There is no reason to wait - get a free shed cleaning estimate for your farm in Kildare quickly at no cost to you.
SCHEDULE A FREE CLEANING QUOTE
OR CALL OUR TEAM ON 087 976 5223
We Service All The Kildare Area Including Nearby Towns
We provide a complete farm cleaning service for Kildare
Agri Farm Painters team can provide multiple references from previous cleaning work in Kildare, No job too large or too small with all work fully guaranteed.
Cleaning Barns
Cleaning Farm Yards
Power Washing
Tarmac Cleaning
Concrete Surfacing
Hay barns
Farm Houses
Shed Roofs
Interior Flooring
Our Customer Reviews
Very efficient and reasonably priced,did a very thorough job-highly recommend.
Katie Kennedy
Excellent work, professional & great value. Will definitely use again 👍
David Farrelly
Done some spraying work on our farm. Painted our shes roofs and fixed parts of the loose cladding on the sides. Were reliable and fast. Finished work seems grand.
David Johnson